Want to get entered to win this Lamborghini giveaway?
Have you ever dreamed of winning a Lamborghini? Now is your chance to enter this Lamborghini giveaway. Up for grabs is this Lamborghini Aventador Roadster LP700-4 and $60,000 CASH.
This rare Grigio Antares color Aventador could be yours if you win. How do you feel about driving around in the 6.5L v12. Spank any car on the road with 700hp and 509lb·ft. In other words this car is a rocket!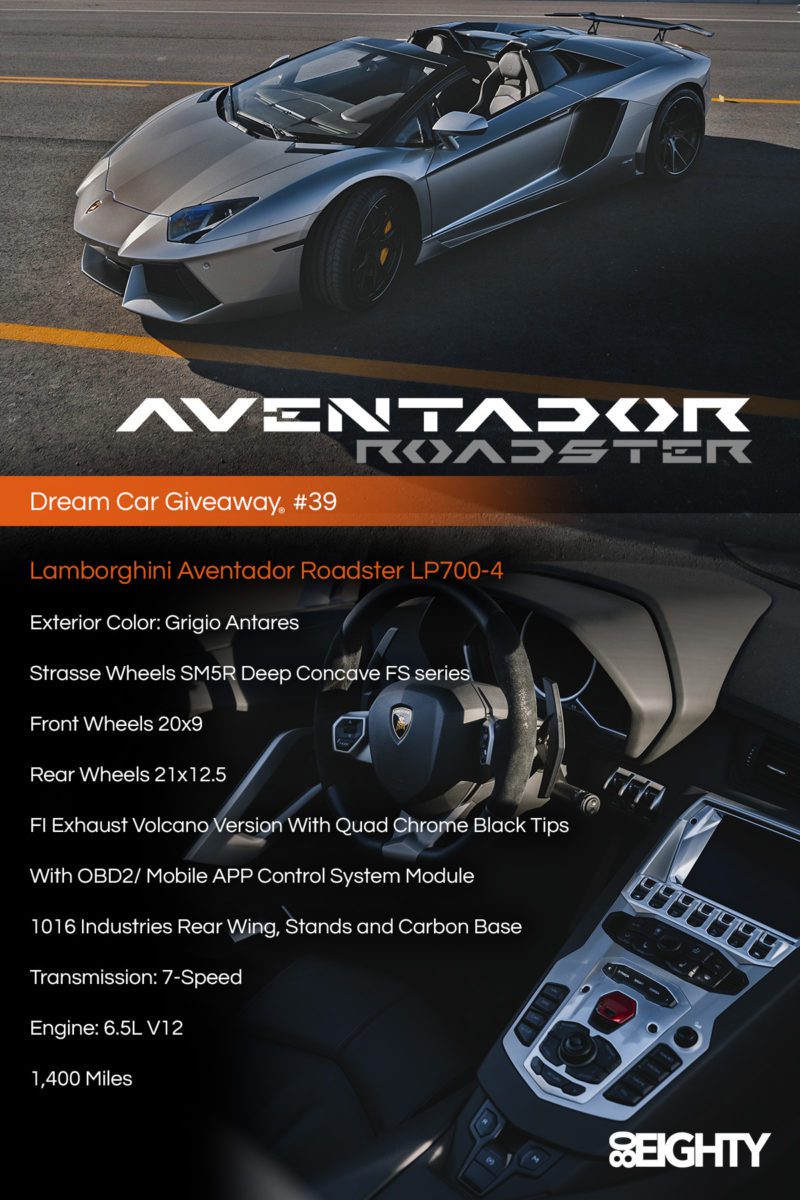 The car in this Lamborghini giveaway comes with a FI Exhaust Volcano Firetador Version Catback and a mobile app control system. In addition, it has some sleek Strasse wheels. The price tag of this car is around $350,000 USD. That's enough to buy a couple houses!
However, this awesome giveaway won't last long! If you want to get your entries head over to 80eighty and check out all of their cool products. For every dollar you spend you can an automatic entry to win the car. For instance if you buy a shirt you automatically get 30 entries.

After that, you will get an email confirming how many entries you have. The giveaway ends January, 3, 2021!
After the deadline the entries will be sent off to a third party. They will pick the winner and the owner will have the chance to come out and get their prize! They will deliver the car to you or you can even drive it home.
In conclusion, if you are looking for the best Lamborghini giveaway you found it! Get entered to win your dream car and tons of cash! What is your dream car? Let us know in the comments below!