What are some of the best car shirts and jdm shirts?
If you are a car guy then you're special. We are a dying breed. When you meet a stranger who is into cars it seems like we can talk for hours. You can usually tell a car guy by the jdm shirts they wear.
There are plenty of shirts that represent all things cars. Some shirts feature your favorite car. There are also witty car shirts available that will make any car guy LOL. Below we have listed some of the best jdm and car shirts available.
I Love Engines – Cylinder Head Shirt
First on our list is the I Love Head t shirt. This is a special shirt that most won't understand. You might be walking around and a guy says "Cool shirt." Right off the bat you can tell that the guy is either an automotive enthusiast or someone who works with cars. This is one of the funnier car shirts. It is an inside joke that only car nerds will get.
---
Race Cars Are Like Strippers
Next is the Race Cars Are Like Strippers Shirt. This jdm shirt is for car guys who love building and racing cars. The shirt states Race cars are like strippers. "I just keep throwing money at them hoping for the ride of my live."
This car shirt is sure to make you laugh. It's perfect for the automotive enthusiast. In addition this a unique shirt that can spark up any car conversation.
---
I Strip on the Weekends – JDM Shirts
Everyone loves being at the drag strip. Whether you're making passes or watching from the stands it's always a good time. Even if you break parts you know that you get to fix the car and come back to make an even faster pass.
The best weekends are spent at the drag strip. That's why this shirt says "I strip on the weekends." Sometimes you just need some time away from the office. Taking your car to the strip can relieve stress and free up your mind.
Gapplebees
There is nothing like taking someone to Gapplebees. This shirt refers to someone getting gapped while racing. It can be car or bus lengths. A win is a win. Wear this shirt around and you're sure to make some money with your race car.
Let others know you're down to take a trip to Mexico. Light up your tires and see who is faster.
---
Just The Tip
Don't worry it's just the tip of the spark plug! This is a funny car guy shirt. It depicts a spark plug. As many mechanics and gear heads know the tip of the plug is where the magic happens.
Walk around with this awesome shirt at the car meets. It is also perfect for car shows or a day at the track. You can't go wrong with just the tip.
Life is better when you're blown by twins! – JDM Shirts
Life is better when you're blown by twins. If you're into domestics or imports you know forced induction is where the power is at. There is nothing like hooking up two twin twirly bois to make some boost.
This shirt is perfect for those who love turbos. In addition if you like boost or the sound that a blow off valve makes this shirt is right for you. There are multiple colors available to fit your style. This is one of our favorite jdm shirts.
---
Carcaine
Carcaine is one hellavuh drug. Does sitting in the staging lanes give you a rush? As you wait for those ambers to light up you might get butterflies. As long as you get the launch right you'll speed down the track.
Dare devils and car guys are alike in the sense they like the thrill. Working on cars is an expensive hobby. Although when you get started it is difficult to stop.
---
When my turbo is spinnin you aint winning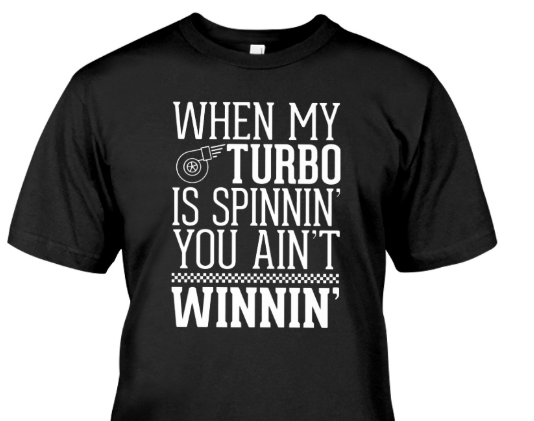 Next on our list is the when my turbo is spinnin you aint winning shirt. This car shirt is great for those who love boost. No matter the lag once the boost kicks in you're off. Whether your car came stock with a turbo or you added one later you cant go wrong with boost.