The top 10 car guy garage ideas
Men who love vehicles have always dreamt about having the best car garage. Whether you have one car or several, your garage can be one of the most favorite places to live. The garage is one of the most intimate places a man can be in. It's where you store your prized possession; your car. Thus, it is only right that the garage is made to look as elegant as possible and to maintain that standard of quality. If you are looking for the best way to decorate your garage, you need to combine some aesthetics to show over your horsepower or spend time in it. Here are ten ways you can make sure that your garage is looking good.
Hexagon garage lighting with led lights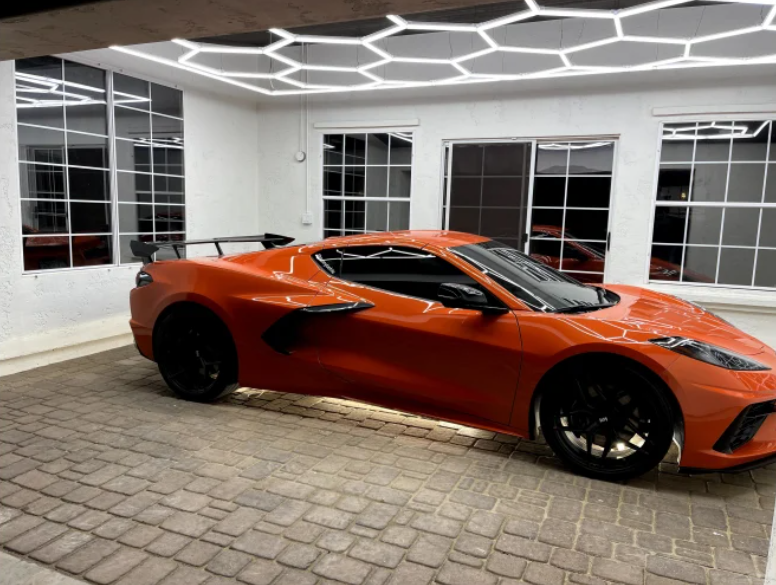 One of the most intricate parts of the garage is the lighting. It highlights everything else in the room, and with the right lighting, it actually proliferates the room and makes it look better. An example of the latter is when you use the Hexagonal LED garage lights.
It is an understatement to say that these lights take your garage to a whole new level. The hexagonal pattern makes the light spread evenly, and the fact that they are LED lights means that you will not have to spend an absurd amount of money on the lighting bill.
The lights are attached directly to your ceiling, though you can have them drop a little bit via a frame lowered from the ceiling. Since different lights combine to form these sets, you have the ability to create different lighting patterns. Essentially, you can turn your garage into the Batcave.
Upgrade your flooring
Most people begin to upgrade their garages with uneven or rough flooring. Such flooring can ruin your car's tires. In addition, the significant tracks and dips can be dangerous for walking on. To revamp your garages, consider investing in an entire floor designed for residential garages. By revamping your garage, you can guarantee safety and comfort in it. There is a wide range of floors to choose from. 
Make the best use of the space
If you love working  you have 
Garage cabinet set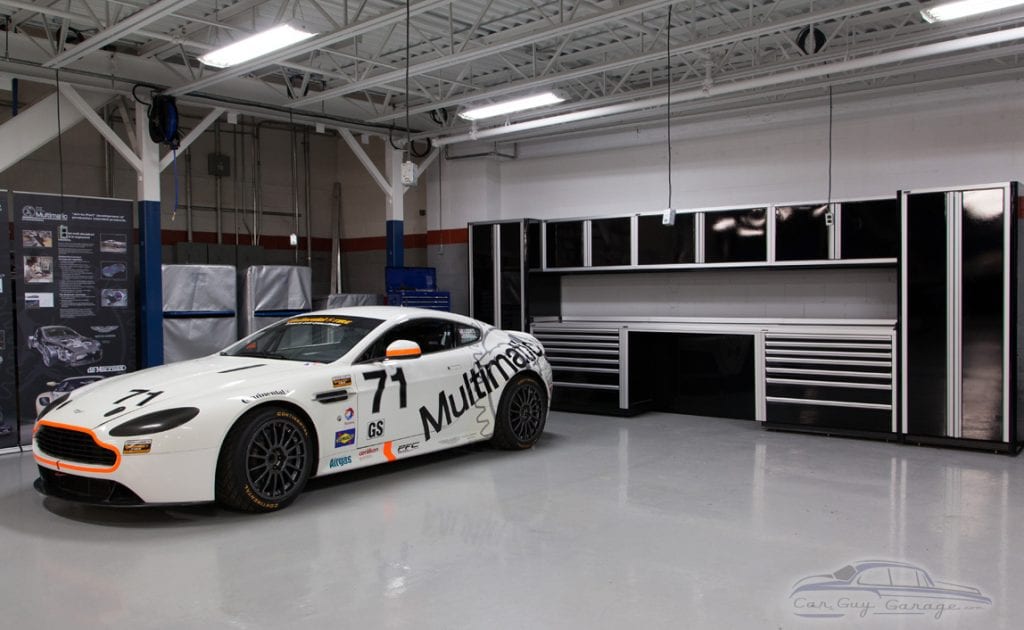 The garage is not only a place to store your car, it is also a place where you can store all your equipment, from repair parts to other essentials you might need. Thus, it is paramount that you have a cabinet set in the garage, and while you're at it, why not get one that is aesthetically pleasing?
The powder-coated steel garage cabinet set is a 10 piece, the foot-wide cabinet set is made of 20 gauge galvanized steel, meaning it will never rust. The powder coat finish applied means that the cabinet will be resistant to scratching, chipping, and any other form of damage.
Driveway curb ramps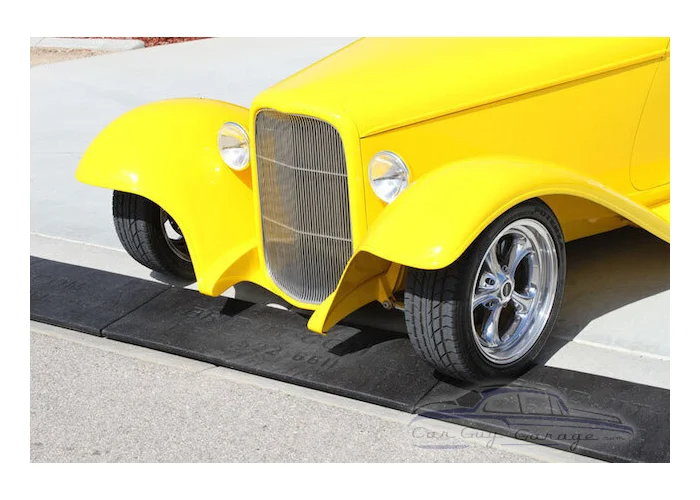 The transition from the road into the driveway and ergo into the garage should be seamless and stress-free, both for you and for your car. To make sure that they are so, you should get a single Car Driveway Curb Ramp.
This 12-foot-wide Driveway Curb Ramp is easy to install, and you will not have to worry about things such as altering the water drainage, parallel parking, or even maintenance. All you have to do is install it properly, and you will be good to go.
Personalized metal sign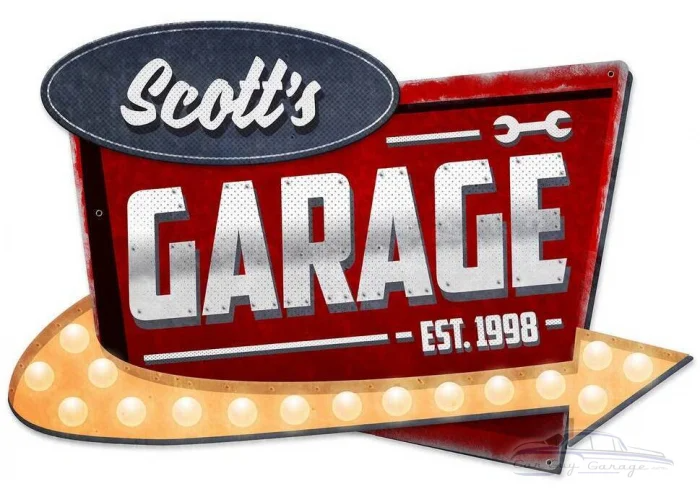 Another way to take your garage to the next level is to get a personalized metal sign, like the ones that motels and gas stations have.
For guaranteed longevity and minimal maintenance, you should get one that is made from heavy gauge American steel. Additionally, you will also be better of getting one that has been formed through sublimation, which is where the image is literally baked into the powder coating. 
Automotive bar furniture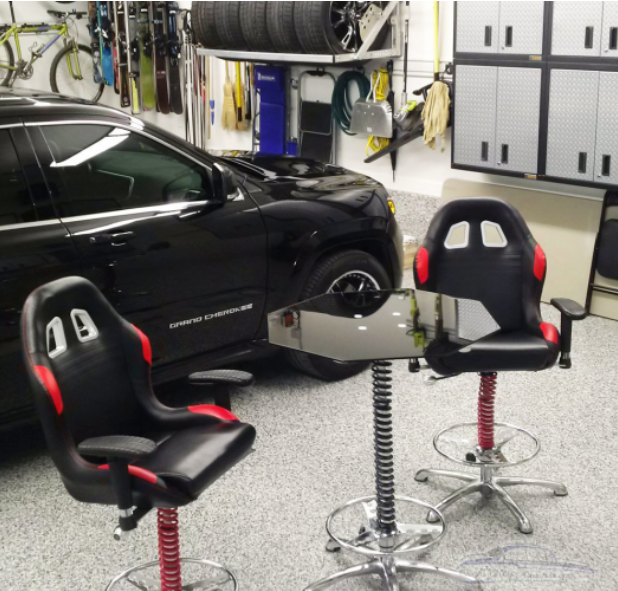 You can also turn your garage into a sort of lounge, where you and a couple of buddies can relax and talk. One of the ways you can do this is by customizing car chairs to form bar stools, and creating a table to go with the aesthetic.
Epoxy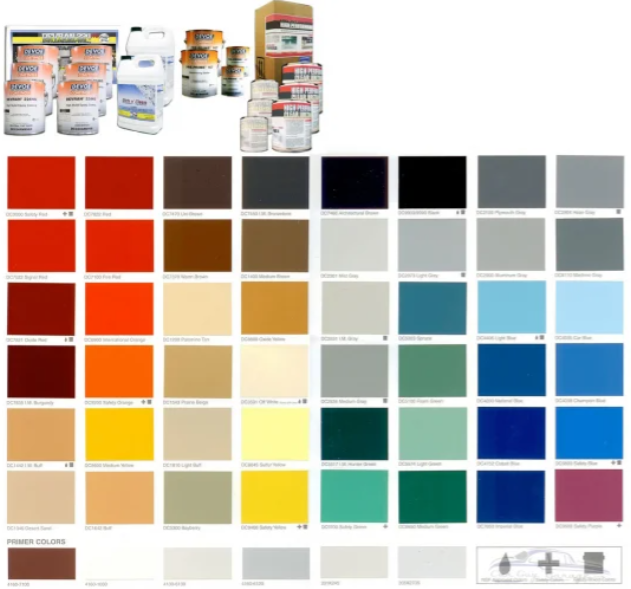 Another integral part of the garage is the floor. You'd want your floor to not only match the aesthetic that you have worked so hard to maintain, but also to stand out a bit and to contribute to the aesthetic that you are going for. Very few floor types can do that, and epoxy does it best.
There is a myriad of epoxy companies in the market. In order to get the best epoxy floor, you have to have the best epoxy type and the best company that installs the material for you.  Angel Wings Basecoat is head and shoulders above the rest.
Garage floor mat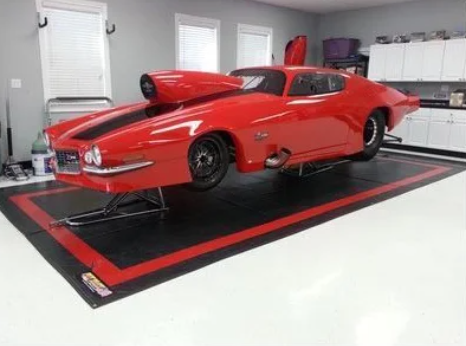 Floor mats are paramount if you are dealing with a part or a vehicle in general, that is to be stationary over a long period of time. Additionally, when installed right, they will improve the aesthetic of the garage instantaneously, by adding a chic, a la mode aspect to it.
The size of the garage floor mat you will need to get will depend on the size f the garage, if you want to cover the whole garage. Another advantage of the floor mat over other types of floors is that you will have the ability to dictate the color that you want.
Diamond plate wall plate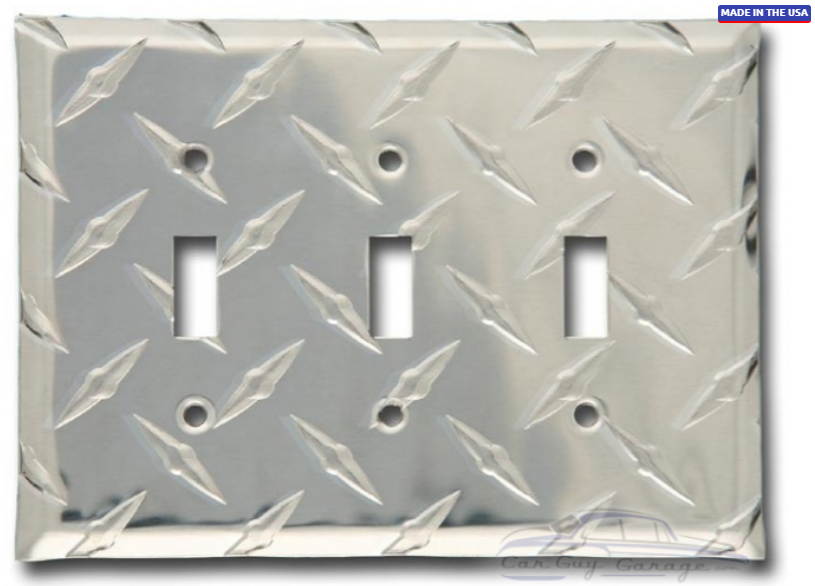 The difference between a good-looking garage and one with a great aesthetic is the details. One nuanced way you can make sure that your garage is popping is by adding a diamond plate wall plate to your garage. Depending on the type of power outlets you have, be it a round plug, toggle, or any other, you will be more than pleased with the outcome.
Checkered aluminum floor tiles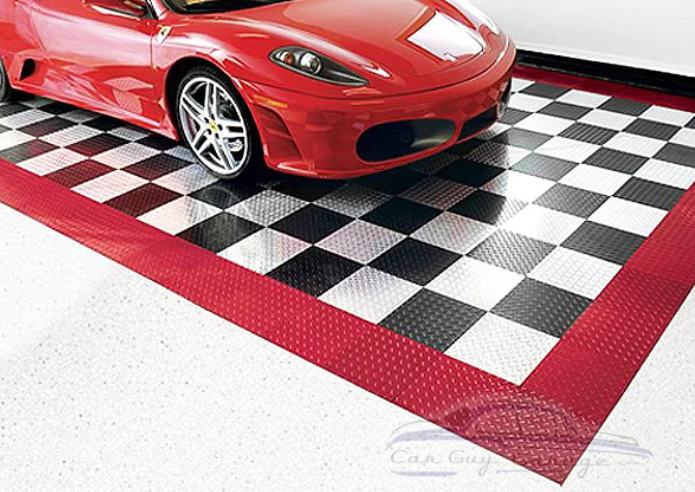 Another option you have when it comes to flooring your garage is checkered aluminum floor tiles. Aluminum will make sure that the garage and everything in it is secure and protected, while the checkered color will give the garage a splendid aesthetic.