How to win an Acura NSX and $30,000 cash
Is there a dream car you have always wanted to own? Now you can win an Acura NSX and $30,000 cash. No longer does the car of your dream have to be out of your reach.
Ride in style in this 2017 Acura NSX. The car has boasts 550 All Wheel HP. That is plenty of power to keep up with the world's supercars. The car is modified with a Science of Speed sport downpipe mated with a Science of Speed exhaust.
In addition, the car is JB4 tuned to make even more horsepower than stock. While this dream car giveaway is awesome there are only a few days left to get your entry!
How do you enter?

Visit 80eighty.com and shop for cool automotive gear and apparel on their site. Pick out your favorite product and for every dollar, you spend you get 1 automatic entry. For instance, buying an automotive-inspired shirt could get you 30 entries. Plus the more you purchase the better your odds of winning.
There aren't any extra steps you need to take to verify your entries. Everything is done automatically and you'll receive an email letting you know how many entries you've earned. It is that simple! 80eighty.com gives away cool cars all of the time. Their last dream car giveaway was a McLaren 720 with $60,000 cash. Imagine if you were the winner!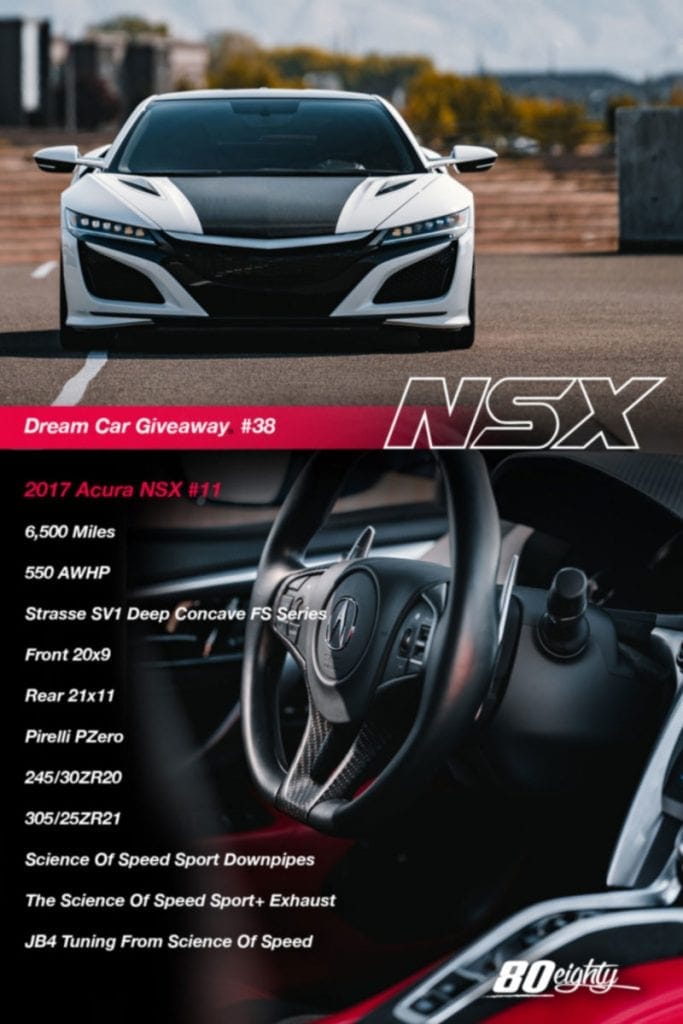 The deadline is October 25th so make sure to get your entries in today! After the giveaway is over a third party will tally up all of the entries and choose a winner. This makes sure that the decision is completely unbiased.
So what are you waiting for? Enter to win an Acura NSX and $30,000 cash! If you know someone who'd love to enter please share our post!