What are the best AEM gauges for your race car?
Do you have the need for speed? Maybe you like taking your car down the strip. It might be a good idea to get a few AEM gauges. You don't want your engine leaning out. Well if you'd like to keep your pistons from melting or shooting off to the stratosphere we have listed some gauges below that might help you out.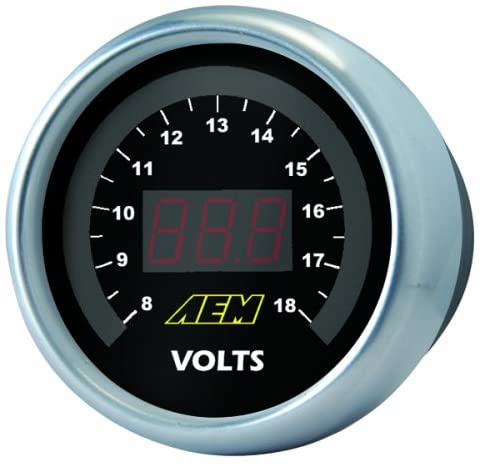 The last thing you want is a dead battery at the track. With this AEM 30-4400 8-18V Voltmeter Gauge you can track your cars voltage. This AEM gauge can assure you that your battery and alternator are working within their desired ratings.
The Voltmeter gauge has a range of 8-18v. With this wide range you can see if any numbers spike or dip to low. In addition no sensors are required to use this gauge. Simply hook it up to your battery or charging system to get an accurate read.
Having this sensor on the go can prevent you from damaging your vehicle. The LED screen will alert you if there are dangerous voltage conditions. If you want to log your readings there is a 0-5v output. You can then hook it up to you engine's management system for logging.
This AEM gauge comes with different faceplates and bezels so you can customize the look based on your preference. Having safe voltage is one of the most important parts of the engine. The last thing you want to do is create a grounding or short somewhere in the harness. That is why the AEM Voltmeter is first on our list of AEM gauges.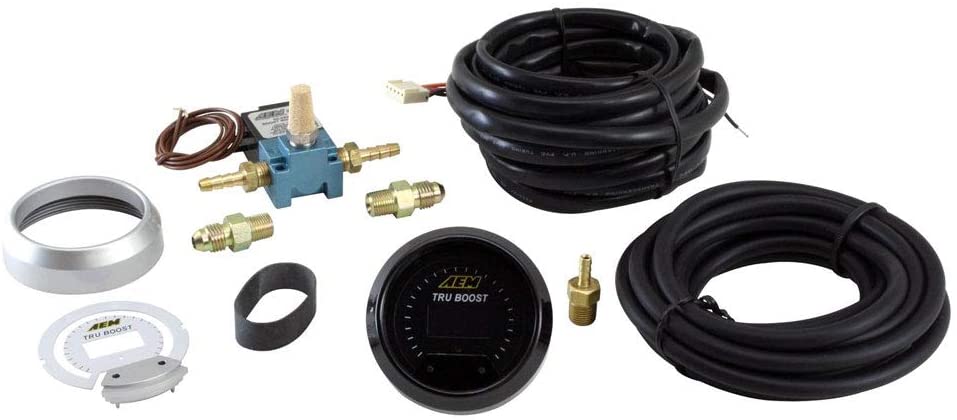 Next is the AEM 30-4350 Tru-Boost Controller Gauge. Having a boosted car can be a blast. Get instant power with a Whipple Supercharger. Or wait for that twirly turbo to spool up.
Once you get into boost it is a blast. You just have to be sure to not blast your pistons into the stratosphere. That is where this AEM Boost Gauge comes in. This gauge lets you see what your boost levels are.
In addition you can set your boost to whatever psi you need. There is a user selected overboost alarm. This allows your to have two timed shutdown levels at 10% and 20% Overboost.
The AEM 30-4350 Tru-Boost Controller Gauge is a complete kit. It includes the  harness, boost hose, on-board 29 psig pressure sensor (external 75 psia optional), boost solenoid, gauge display and all necessary fittings.
The boost controller gauge is ready to go right out of the box. This gauge doesn't require any external interface to program the unit. Want to change the look of the boost controller? There are multiple face plates included which allow you to customize the look.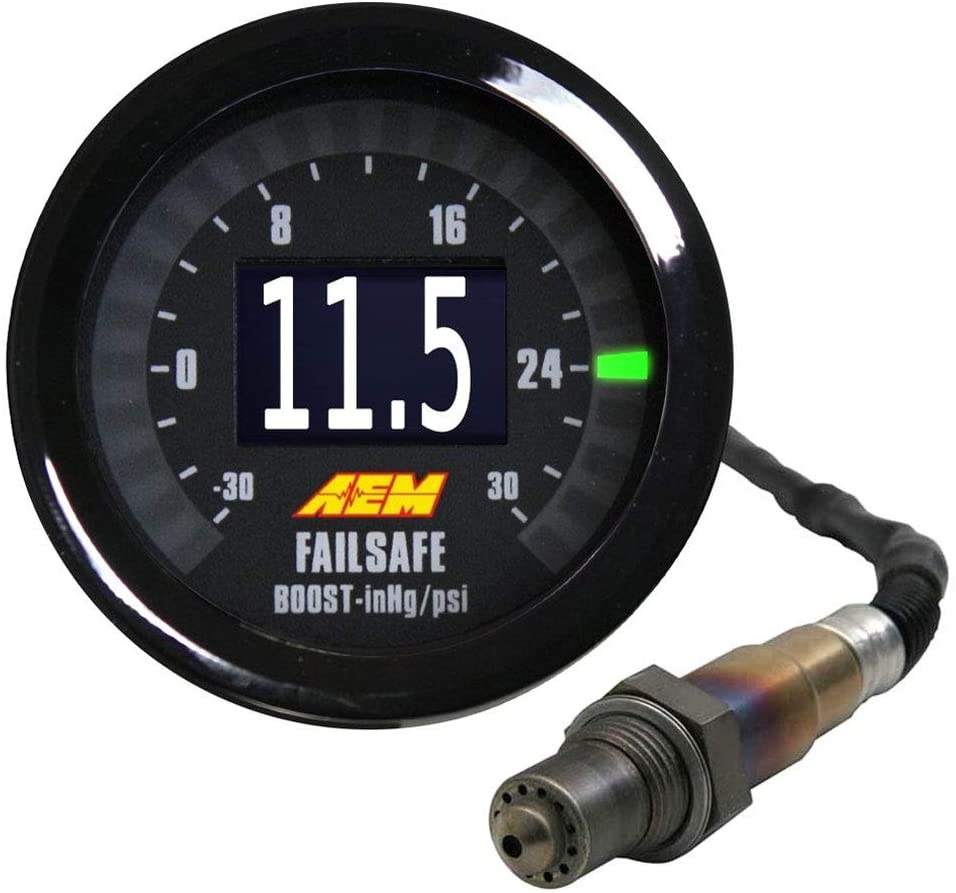 This AEM 30-4900 Wideband Failsafe Gauge helps protect your engine from multiple issues. Having a lean air fuel ratio can be detrimental to an engine. Leaning out your engine could cause it to explode.
This gauge displays both your boost or vacuum and AFR or Lambda simultaneously. You practically get a 2 in 1 gauge. Included is a Bosch Wideband UEGO sensor which screws into most 02 sensor holes.
The sensor has onboard logging capabilities at 20hz per parameter. Just like the other gauges listed above the faceplate and bezel can be customized. If you are wanting a boost and AFR gauge then this AEM 30-4900 Wideband Failsafe Gauge will work great for you.
Protect your engine by being able to monitor it all the time.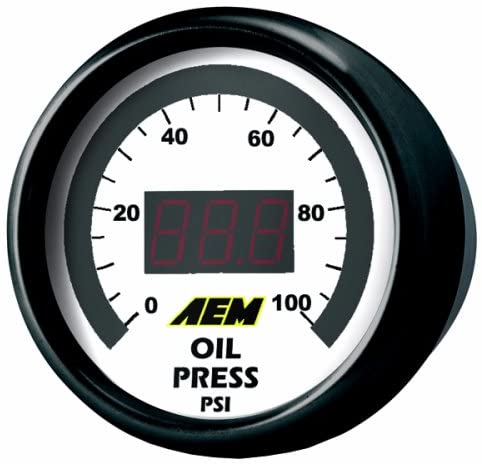 The AEM 30-4401 0-100 PSI Oil or Fuel Pressure Gauge is perfect for measuring fuel or oil pressure. Running out of either can royally mess up your engine. This gauge comes with everything you need. No additional sensors required.
Having the right oil pressure can tell you whether your internals are getting lubricated enough. With no lubrication things start to grind and heat up. With things start to get hot enough your engine car start destroying itself.
That is why it's important to have an oil pressure gauge. The Fuel Pressure Gauge is another important unit to have. You have to be able to account for how much fuel your engine is getting.
If your engine is operating with a rich amount of fuel you might be able to dial things in to make more power. On the other hand if you don't have enough fuel your engine could become a ticking time bomb.
Having a fuel gauge is one of the most important of the AEM gauges. This kit suits both purposes. In addition it will provide you with important information to get the most out of your car.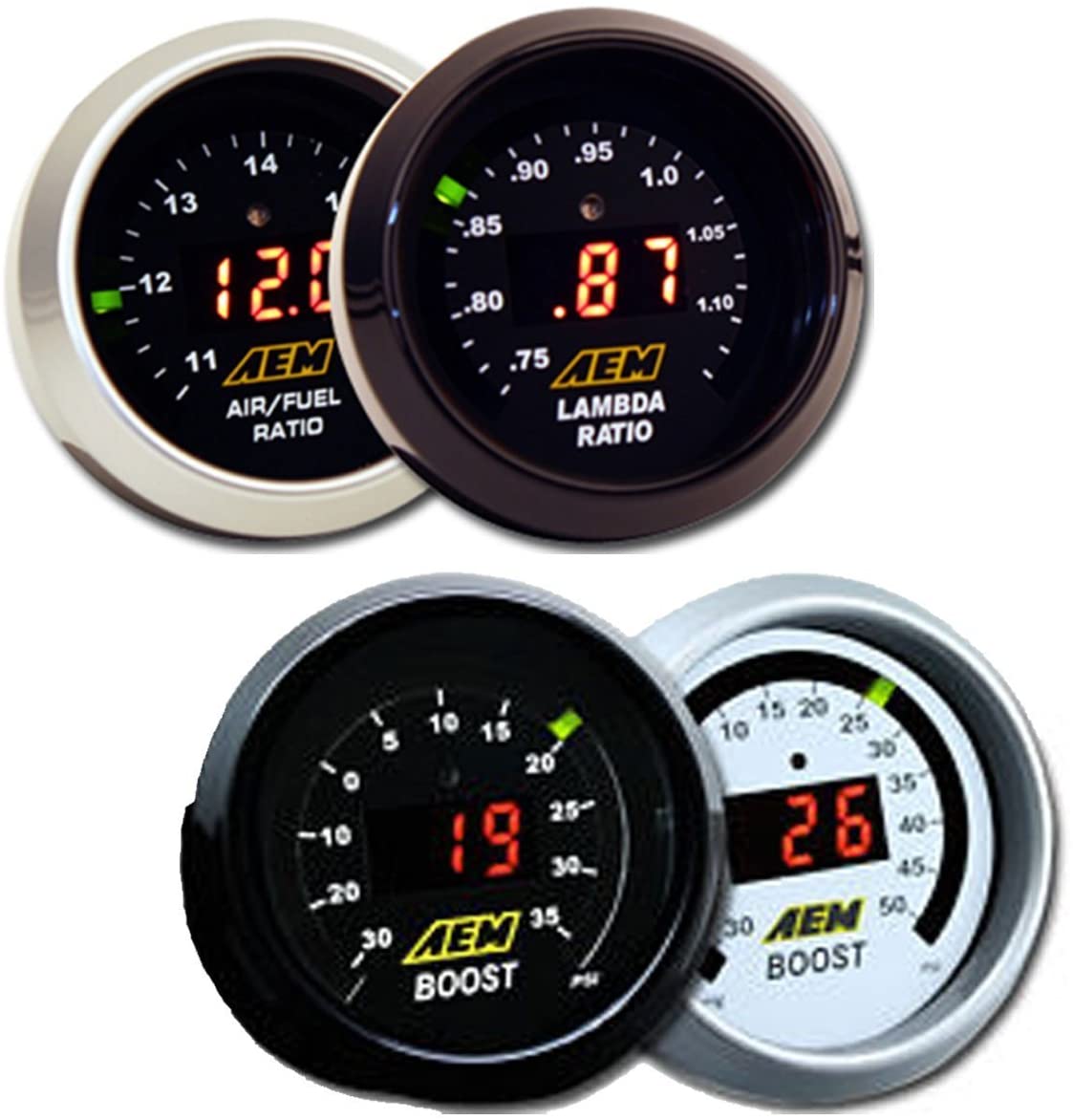 Next is the AEM 2 Gauge Display Set. In this kit you get two gauges. Included is the UEGO WideBand A/F Ratio Gauge (30-4110) and the Boost Pressure Gauge (30-4406) . By buying the two as a set you save a little money.
The AFR gauge will display information on how your vehicle is running. It will tell you if your car is running rich, lean or in between. Get the most power out of your ride by getting your numbers within spec.
The Boost Pressure Gauge will give your information on how much boost you're running. Too much boost and you might blow your engine. On the other hand not enough boost and you won't be making the most power.
Both gauges have changeable faceplates. This allows you to customize them to fit your style. Get the two most popular aem gauges in this combo kit.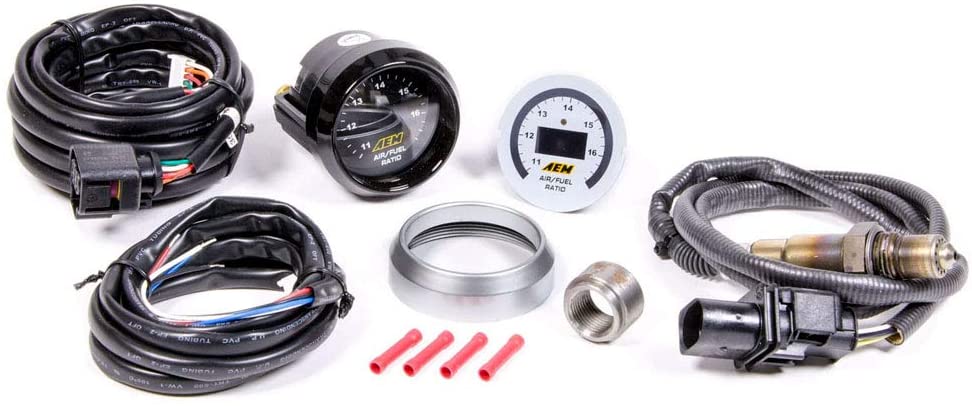 The AEM (30-4110) UEGO Air/Fuel Ratio Gauge is the next gauge on our list. If you are looking for the best AEM Gauges then an AFR guage is right for you. Want to see if your air fuel ratio is within spec?
Just install this kit and get instant information. There is not external interface or programming to get this gauge running. It's simple to use and easy to install. This kit comes with everything you need to monitor your AFR.
It has a 0-5v output so you can send data to your datalogger. Included afre multiple faceplates to change the styling. Mount this unit anywhere in your car with the lengthy wires included.
The AFR range of this guage is 10-20. This will give you an ample amount of space to watch your engine and make sure it's running at its best.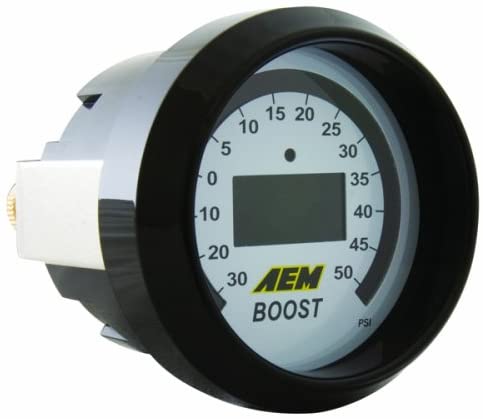 If you just need a boost gauge for your car you can order the AEM 30-4408 -30-50 PSI Boost Gauge. It has a good boost range of 30-50PSI. Being able to watch your boost levels if you want your car to run right.
Having too much boost can blow your engine. No sensors or additional equipment are necessary for this gauge. Simply plug it up and get readings while you drive. In addition you can hook this up to a engine management system. From there you can log data via the 0-5v output.
Included are different faceplates and bezels which allow you to customize the look. Purchase this AEM 30-4408 -30-50 PSI Boost Gauge and protect your engine today!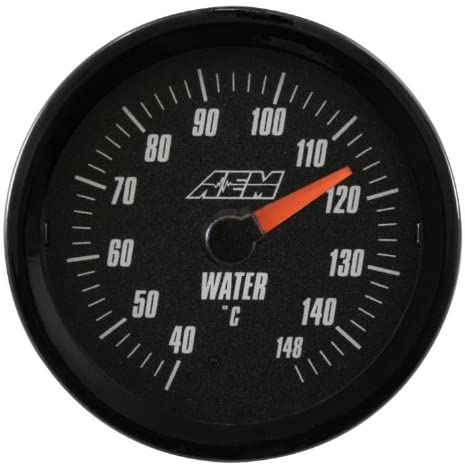 The AEM 30-5140M 40-148C Oil/Transmission/Water Temperature Metric Analog Gauge is next. Watching you temperatures are very important. That's why having one of these temperature aem gauges can be beneficial. If your coolant, transmission fluid or oil get too hot it can damage your engine.
Having this temperature gauge can prevent you from having costly repairs. You water or coolant helps keep the temperature of your engine down. It does this by circulating fluid through your cooling system. If there is an issue it might not transfer heat.
Your transmission is also heat sensitive. There are multiple moving parts in a transmission. As everything moves and heats up to does the temp. The temperature gauge can give you a reading of your temps.
Oil not only lubricates and engine but it also transfers heat. If your oil is not flowing or has an issue with the system you may be in for a bad time. Having this gauge could help you in the long run.
This AEM 30-5140M 40-148C Oil/Transmission/Water Temperature Metric Analog Gauge has a 0-5v output. This allows you to hook the gauge up to your data logging system. Get logged information on you car's performance.
Included are multiple faceplates with different colors. Plus depending on if you're using it for oil, water or transmission fluid the supplied faceplates offer different lables.
In Closing
If you like having a running car escpecially at the track then you can't go wrong with these AEM gauges. Depending on your application you could use all or some of them in your vehicle. Keep your engine running in tip-top shape and it will thank you in the long run.
What is your favorite gauge to put in your car? Let us know in the comments below!