How does a tire pump work?
No one likes having a flat tire. So how does a tire pump work? There are different types of pumps that can be used to fill up tires. The most common pump for automotive applications is the positive displacement compressor (PDC).
The PDC is used in places like mechanic garages. In addition, this style is used for most portable air compressors.
How does a tire pump work
A manual pump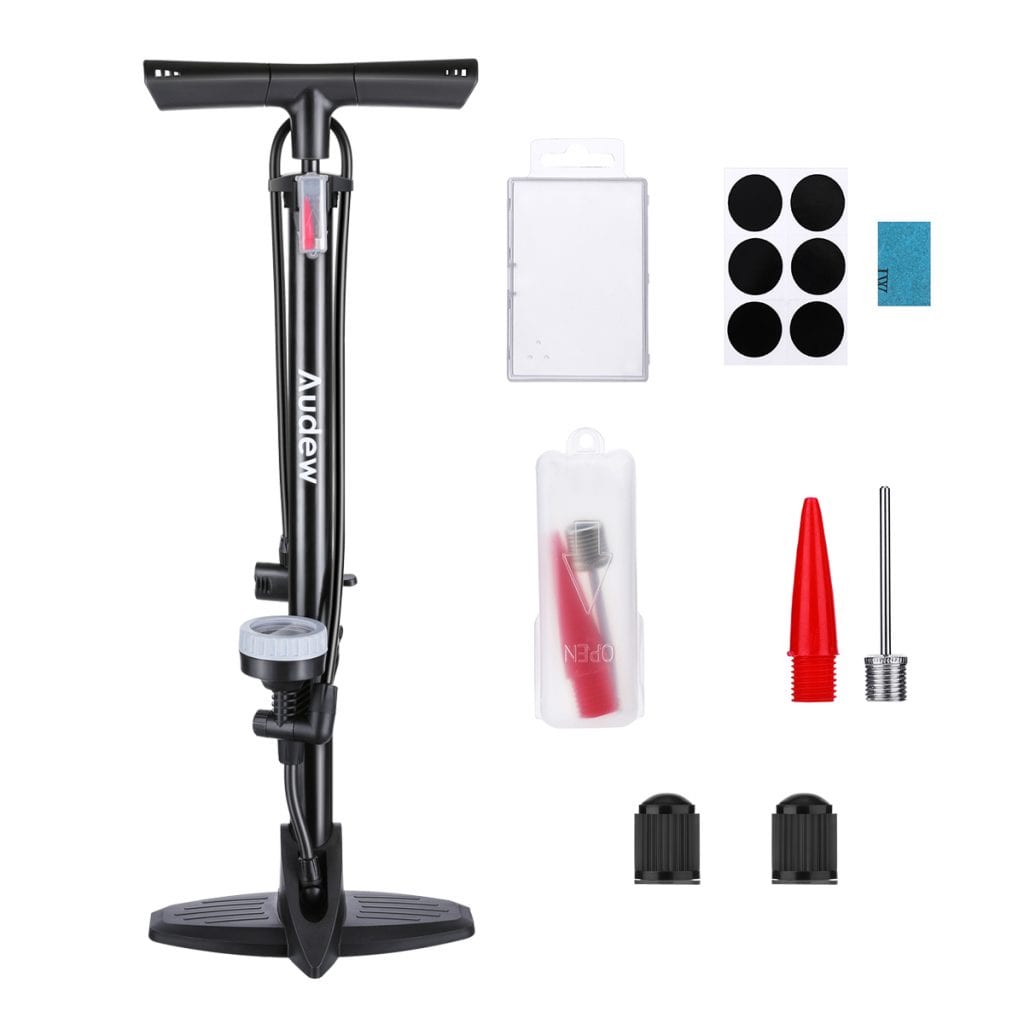 A manual pump has a cylinder that collects air. There is typically an input and an output valve that allows you to fill a tire. As you pull up on the handle the input valve opens and the output valve closes. This allows air to enter the cylinder. As you press down on the handle the input valve closes and the air starts to compress.
When the compression is great enough the output valve opens which allows the compressed air to travel through the hose into your tire. You then pump and repeat the process until your tire has been filled with enough air. While manual pumps are good for bike tires or sports equipment it would take a long time to fill up a car tire using this method.
An reciprocating compressor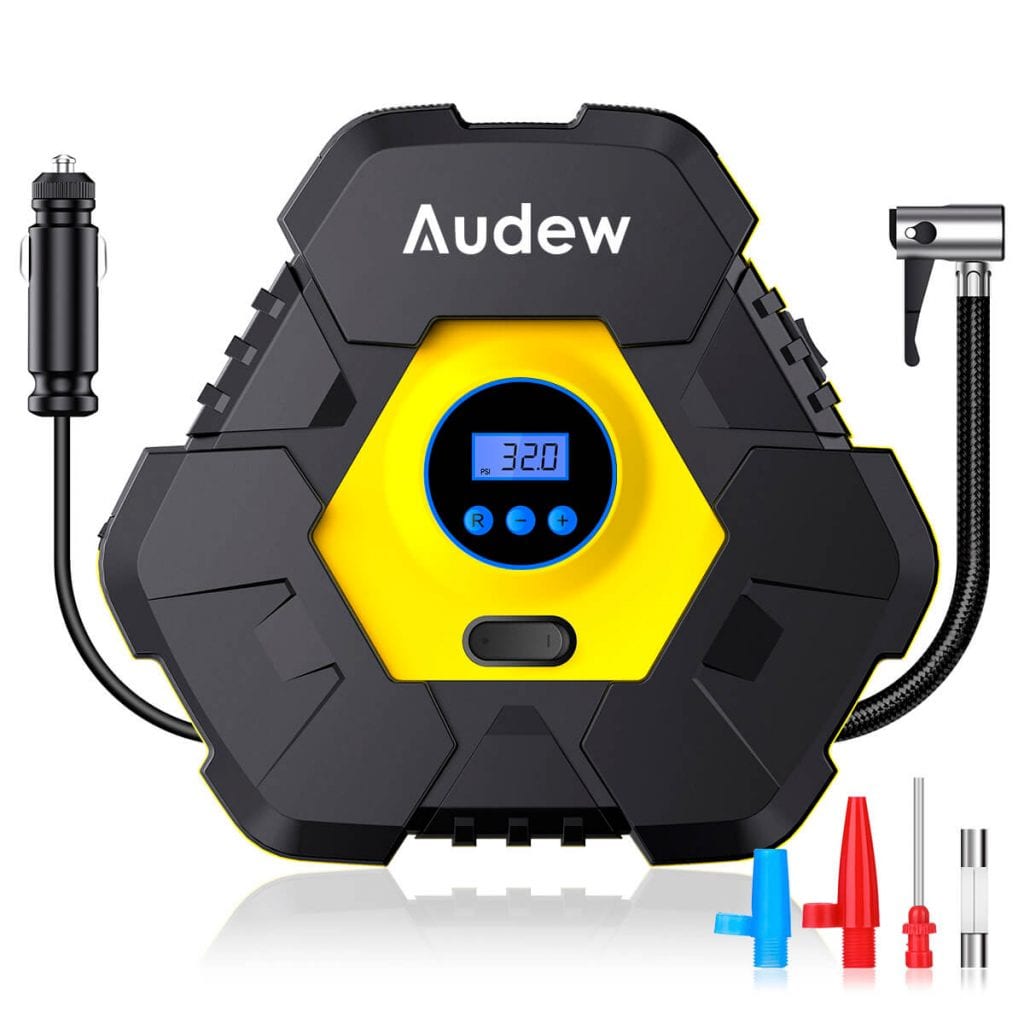 Unlike the manual pump, an automatic reciprocating compressor is powered by either gas or electricity. Depending on the air compressor you could have one or multiple pistons. These pistons move down to fill the chamber with air. When the pistons move up it compressors the air. After the air is compressed is will usually enter into a storage tank.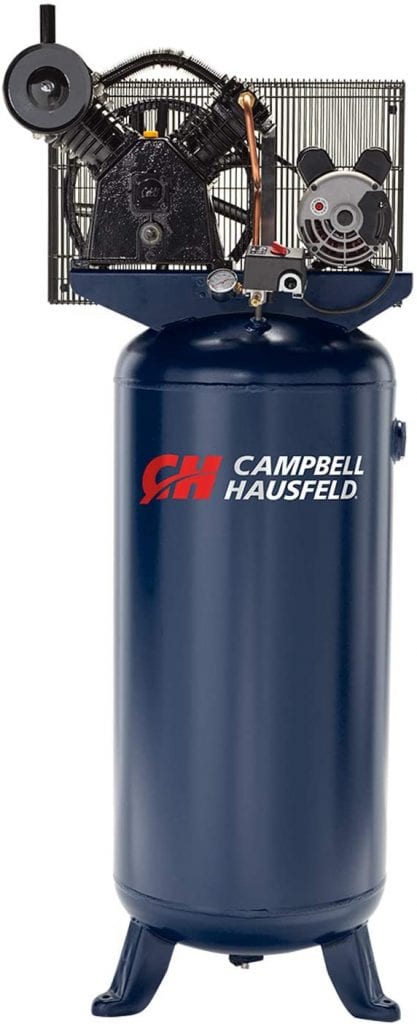 In a two-stage compressor there are two pistons. The first piston draws in the air from the atmosphere. The air is then compressed and sent to the second chamber. From the first to the second chamber the air is given time to cool which allows you to create more pressure safely. The second chamber compresses the air even further and sends it to a storage tank.
What are some of the best mobile tire inflators?
Audew Portable AC/DC Air Compressor Tire Inflator with Gauge
| Image | Name | Features | Price |
| --- | --- | --- | --- |
| | Audew Portable AC/DC Air Compressor | Quick tire filling, Cigarette lighter or wall plug, emergency LED light | |
If you are looking for a great mobile air compressor then check out this Audew Portable AC/DC Air Compressor. This a state-of-the-art compressor that gives you multiple features. The compressor can be plugged into your cigarette lighter or a 120v outlet.
If you are filling a tire in your garage or on the road this compressor will be a great addition to your emergency kit. Fill things like sports equipment, tires, and more. This compressor is manufactured with a high-precision alloy die-casting cylinder. You will get a quick constant flow of air to fill your tire fast.
In the back of the compressor there is a storage compartment for the power cord. No need to worry about a tangled wire laying around. Just shove the cord into the back and keep the compressor's footprint small. Monitor your tire pressure and fill a tire with the press of a button.
See information on a clear LCD screen. If you are working day or night you can see the crisp display. There are also bright LED lights equipped in this model. Warn other drivers that you are filling your tire with the emergency light.
---
IONAIR 40V Cordless 1.6-Gallon Air Compressor
| Image | Name | Features | Price |
| --- | --- | --- | --- |
| | IONAIR 40V Cordless 1.6-Gallon Air Compressor | Powered by a rechargeable battery, 65 minute runtime, 1.6G tank | |
The IONAIR 40V Cordless 1.6-Gallon Air Compressor is an awesome tool because you don't even need to be next to a power source. The compressor comes with a powerful battery that allows you to fill up virtually anywhere.
Included with this compressor is 6-piece accessory kit for most inflation projects. Whether your are filling up a tire or a ball this compressor does it all. Get a max time of 65 minutes on each charge. This is plenty of tie to fill up four tires or more at the campsite.
While this compressor is great for filling up objects it also does well brad nailing, air brushing, stapling and completing other light-duty applications. The 1.6 gallon tank and 40-Volt lithium battery pair well for any work you need to get done.
---
Milwaukee M12 12-Volt Lithium-Ion Cordless Compact Inflator Kit
| Image | Name | Features | Price |
| --- | --- | --- | --- |
| | Milwaukee M12 12-Volt Lithium-Ion Cordless | Powered by a rechargeable battery, Fill a tire under 1min, Milwuakee batterys | |
If you are a fan of Milwaukee tools then you'll love this Milwaukee M12 12-Volt Lithium-Ion Cordless Compact Inflator Kit. This is a battery-operated kit that works with your standard Milwaukee M12 batteries. You can fill a tire in under a minute.
Whether you are working on a car or truck this inflator can do the job. Plus with the safety features like auto shutoff and overheat prevention you can safely inflate your tire. The Milwaukee M12 12-Volt Lithium-Ion Cordless Compact Inflator Kit has a maximum pressure of 120 psi. This is more than enough to inflate your tires.
If you need a reliable mobile air compressor then check out the one by Milwaukee tools.
---
How to use a mobile tire inflator
Make sure you are safe
The first step is to make sure you are in a safe location. Paying attention to your surroundings can keep you safe while you are filling up your tire. There are plenty of drivers on the road who get distracted by things like smartphones or eating. You don't want to end up getting run over on the side of the road. Always make sure that you can fill your tire safely.
Find out how much air you need
Different vehicles have different requirements. Some full size trucks may need more air in their tires compared to a small car. This is why it's important to check your owner's manual to find out how much air you should put in your tire.
If you no longer have access to the manual you can check on the inside of the driver's door. Typically there is a sticker that provides you with how much pressure your tires require. On the other hand, you can search Google and find your tire pressure amount.
Can I just fill the tire to the max number?
On tires there are maximum pressure numbers. You should never fill a tire to the maximum pressure. This guideline tells you that you are pushing the tire beyond it's limits if you meet or exceed this pressure. It is always best to consult with your owner's manual for the correct tire pressure.
Start your car
If you aren't using a battery-operated tire inflator then you will want to start your car. If your inflator starts running while the car is off you could end up draining your battery. It is always smart to have the car running that your alternator can keep the battery charged.
Power the mobile tire inflator
A battery-operated tire inflator can simply be turned on. While an inflator powered by a cigarette lighter can now be plugged in. Usually there is a button on the inflator which turns the device on.
Remove your valve caps
The next step is to remove your valve caps. Simply twist the cap in a counter-clockwise rotation. Make sure you keep track of these because they can prevent water and other contaminants from damaging your tire valve.
Fill the tire
Plug up the hose from the air compressor and turn it on. If you have an automatic compressor you can set your desired pressure and let the pump go to work. A compressor like the Audew Portable AC/DC Air Compressor allows you to set it and forget it. It has an automatic shutoff that will stop the pump when you reach the desired pressure. If you have a more traditional pump you will have to monitor the pressure via the onboard gauge.
Replace the valve cap
After you filled up all of your tires to the correct pressure you can replace the valve caps.